-NZME
A trek through the Tararua Forest Park turned into tragedy when two trampers died in mysterious circumstances on one of the park's tracks.
Two men, aged 32 and 39, were found dead in the park yesterday. A member of the public made the first grisly discovery at about 10.25am, and Search and Rescue found a second body a short distance away at 1pm.
The men set off on an overnight tramp to Alpha Hut from the Waiohine Gorge campsite on the southeastern side of the park on Saturday morning, and were due to return on Sunday evening.
They never arrived back, and worried family members reported them missing on Sunday night.
The pair were born overseas but were New Zealand residents.
Yesterday their deaths were confirmed by police, and family overseas were being notified.
Senior Sergeant Mike Sutton confirmed there were no suspicious circumstances surrounding the deaths, saying that four police staff were flown into the ranges today.
Both bodies were recovered from the bush yesterday afternoon.
While weather conditions in the Tararuas were generally good over the weekend, temperatures did fall overnight and police were working to establish how much tramping experience the pair had.
A police spokesperson said "early indications were hypothermia", but that had not been confirmed.
Police will investigate what happened on behalf of the Coroner.
The Department of Conservation has an alert in place for the Waiohine Gorge walks in the wake of last week's magnitude 7.8 earthquake, with aftershocks putting the tracks at risk of rockfalls and slips.
MetService meteorologist Mariken Van Laanen said data from the Wellington City Council showed that the temperature in the Tararua Forest Park was 4C at Cone Peak last night, which was "nothing exceptional" and typical for the area.
"There was no significant rainfall and wind-wise there were north and northwesterlies from 40km/h which picked up to 60km/h overnight at Cone Peak."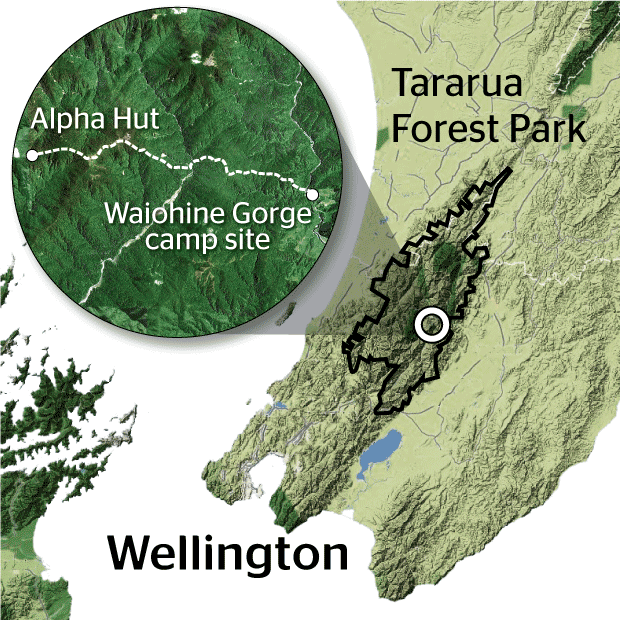 Peter Barber, president of the Tararua Tramping Club, said cases of hypothermia generally occurred when trampers were in an exposed area at high altitude and had become wet.
It was important for trampers to wear appropriate clothing made from wool or polypropylene and bring a parka with a hood, Barber said.
"Tramping is not a pastime for the ill-prepared or the foolhardy."
Trampers should carry and know how to use navigational equipment, including a map and compass, GPS and personal locator beacon and check the MetService forecast before heading out, he told the Herald.
Tararua Forest Park spans 116,535 hectares, and is the largest conservation park managed by the Department of Conservation in the North Island.
It's not the first time this year trampers have encountered strife in the Tararuas.
In April, American mother and daughter Carolyn and Rachel Lloyd spent four near-freezing nights in the Tararua Forest after they got lost during what was supposed to be a one-day hike.
They were rescued after a helicopter pilot saw the word "help" spelled out on a river bed with rocks, punga fronds and sticks.
The body of a 67-year-old man was found in the Tararua Ranges in August after he never returned from a hike.
John Arthur was described as an experienced tramper and well prepared, but his body was found in the Field Park area of the Ranges by a search party.